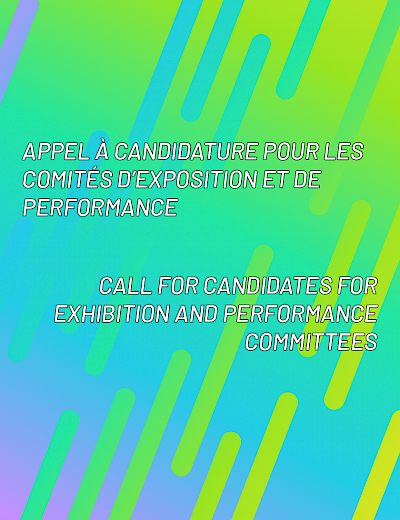 Call for candidates for exhibition and performance committees
La Centrale is currently looking for new members for its exhibition and performance committee! Are you an artist, curator, writer, student, critic, theorist and/or activist involved in the visual arts and with an interest in feminist arts? Participate in the creation of our programming by joining our selection committees!
La Centrale galerie Powerhouse is an artist-run centre dedicated to the dissemination and development of multidisciplinary feminist practices. We are committed to supporting practices and artists who are not very visible in the dominant cultural institutions, and this at various stages of their careers. Our programming focuses on feminisms that enter into dialogue with intersectionality and social justice and is built, on the basis of non-hierarchy and consensus, by selection committees made up of active members of the centre.
The exhibition committee has the mandate to select the centre's exhibition projects (exhibition in gallery space and winter+ summer window showcase) .

The performance committee has the mandate to select the centre's performance projects (performance residency, VIVA, performance day).
The two committees work together to create programming linked to La Centrale's mandate. The members meet at least twice a year to look at the applications and discuss the programming. The committees may decide to focus the programming on a chosen theme.
Members are invited to apply by specifying for which committee and by sending a short biography (150 words) as well as a letter of interest (250 words) to the following address: galerie@lacentrale.org. The biographies received before October 20, 2020, will be included in the presentation at the AGM, those who have not sent their applications before this date will be able to present themselves spontaneously. Candidates will be voted on at our next AGM, October, 28, 2020 which they must attend in order to present themselve. The mandat for a member is two years.
* Non-members of La Centrale who wish to get involved in the committees must become members. For more information, please visit our website: https://www.lacentrale.org/en/devenir-membre/ *