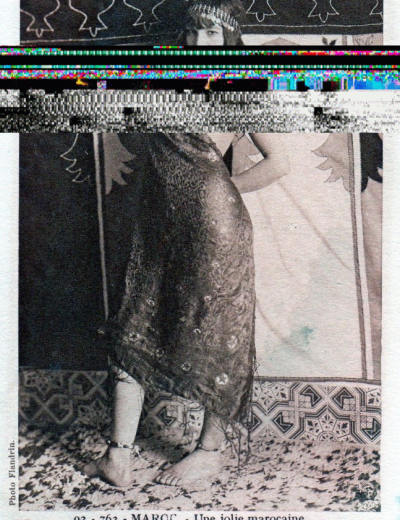 2022.03.18 - From Mia Khalifa to Bousbir with Nashwa Lina Khan
As a part of the exhibition Dot by dot like a baby gazelle curated by Mitra Fakhrashrafi, La Centrale presented From Mia Khalifa to Bousbir with Nashwa Lina Khan on Friday, March 18th at 6:00 pm.
Across 1924 to 1955, the photographs of Maghrebi women bearing facial tattoos and bare breasts, were mailed across Europe as postcards; depicting an 'Arabesque playground' of women who likely would not have even shown their décolleté area in public. From the spectrum of Mia Khalifa who donned a hijab in pornographic videos that have charted globally to the women who held the chained leashes of men in Abu Ghraib, researcher and community educator Nashwa Lina Khan suggests sexuality and hypersexualization are always pocked and embedded with remnants of occupation, religion, and subversion. Working through archival image and writing, Khan considers what the Maghreb and, more broadly, the Middle East and North Africa can tell us about representations of the body, inviting participants to consider the ways that hypersexualization, sexuality, and colonialism transcend.
Nashwa Lina Khan is a community educator, facilitator, and researcher. She is also a writer and poet and occasionally dabbles in installation and archive that uses narrative methodologies. She holds a Masters of Environmental Studies from York University with areas of concentration focused on narrative methodologies, community and public health, refugee, and forced migration studies. Her work has been published in a variety of places including Vice, Rewire, This Magazine, and The New York Times. She is the host and producer of two podcasts, Muslim Rumspringa and Habibti Please.
Registration required : https://us06web.zoom.us/meeting/register/tZIqceutqjkuGt2_0hiQPVaFolcnBf2dms7Z
Picture : Nashwa Lina Khan