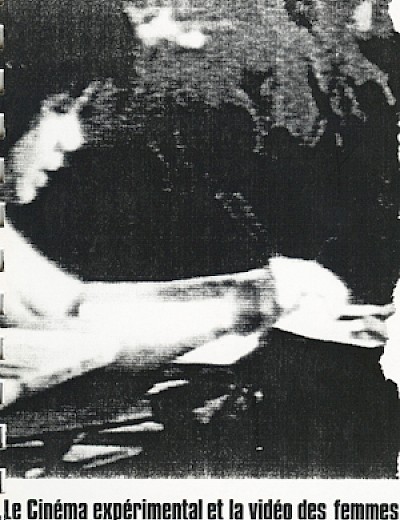 Release : 1991
Price : 2$ / 52 p.
2$
1991
52 p. with illustrations
bilingual
Published in collaboration with Main Film
This purchase can only be done in person.                             If you want further details, please write   to developpement@lacentrale.org 
WOMENS EXPERIMENTAL FILMS AND VIDEOS
The question of a vision specific to women artists is one of the principal issues of the event "Womens Experimental Films and Videos". The caracteristics of the experimental form, together with the creativity of women, will sustain the discussions and lead to questions regarding the relationship to the viewer, technical equipment, working in this medium and its possibilities.
With texts and artworks by:
Suzanne Paquet
Julia Browne Figuéréo
Midi Onodera
Tamithy Basaraba
Guylaine Roy
Anne Marie Fleming
Rosalie Bellefontaine
Martha Davis
Eva Mansson
Elisahbeth Miles
Michelles Desaulniers
Katherine Sharp
Jan Peacock
Joyce Wieland
Katherine Liberovskaya
Paula Fairfield
Reva Stone
Suzanne Girard
Annette Mangaard
Caroline McCluskie
Leila Sujir
Ruby Truly
Melodie Calvert
Lucie Lambert
Jeanne Crépeau
Kitty Scott