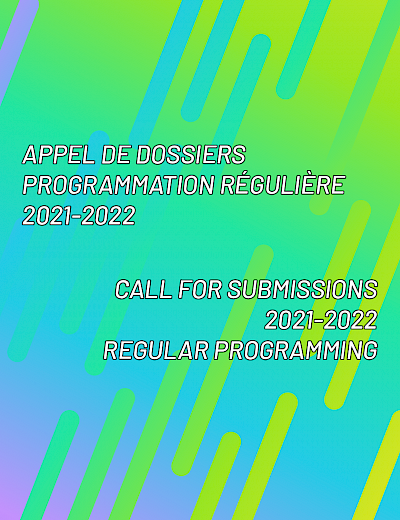 Deadline: December 6, 2020 at 11:59 p.m.
CALL FOR SUBMISSIONS 2021-2022 REGULAR PROGRAMMING
La Centrale galerie Powerhouse is an artist-run centre dedicated to the dissemination and development of multidisciplinary feminist practices. We are committed to supporting practices and artists who are not very visible in the dominant cultural institutions, and this at various stages of their careers. Our programming focuses on feminisms that enter into dialogue with intersectionality and social justice and is built on the basis of non-hierarchy and consensus by selection committees made up of active members of the centre.
La Centrale invites artists and curators at all levels of their careers to submit exhibitions, curatorial, performances and digital projects related to the centre's mandate. We pay exhibition fees and honoraria according to the rates recommended by CARFAC. We also provide financial support to artists and professionals living outside of Montreal.
NOTE: Due to the pandemic and the resulting postponement of exhibitions and activities, selection committees will unfortunately have to select fewer projects than in previous years.
YOUR PROJECT SUBMISSION MUST INCLUDE :
A Curriculum vitae

A Project description (max. 500 words)

An Artist statement

A short text (max. 200 words) explaining how your project fits with La Centrale's mandate.
VISUAL FOLDER :
Visual documentation (15 to 20 images in digital format)

For video works, please send a link (VIMEO or Youtube) or an MP4, MOV file (Max. 10min)

A descriptive list (title, medium, size and year)
PLEASE NOTE :
Please respect the following indications for your digital documents.
Documents must be in JPEG, PNG and/or PDF format.

Documents must be identified in the following format: 202122_Artist'sname_PROG

The images should be identified in the following form: 202122_Artist'sName_Image01

Image formats should not exceed 1 MB per image and video. The total file size should not exceed 2 GB.
Please send your submissions via WeTransfer to the following address: dossier@lacentrale.org within the subject line Programmation 2021-2022. You will receive a confirmation email from WeTransfer when your file is uploaded.
Late and/or incomplete submissions will not be accepted.
>> See also the CALL FOR SUBMISSIONS - WINDOW EXHIBITION 2021-2022 PROGRAMMING
The press release of the call in PDF