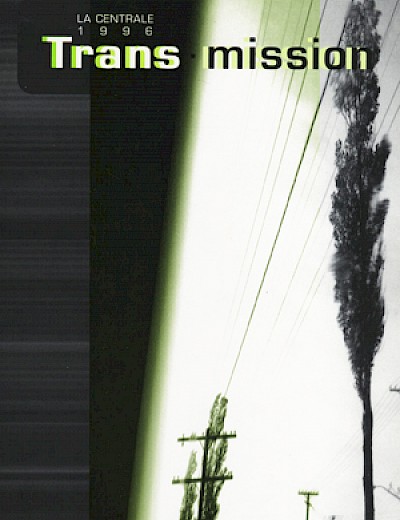 Release : 1996
Price : 12$ / 147 p.
12$
1996
147 p. with illustrations
bilingual
ISBN: 2-89091-143-8
Coordinated by Élaine Frigon, Danièle Racine and Manon B. Thibault
This purchase can only be done in person.                             If you want further details, please write   to developpement@lacentrale.org 
TRANS.MISSION
women's heritage in visual arts
The publication entitled Trans.mission represents a step forward in the reflection on women'd art that La Centrale has been carrying on for several years. This publication, which provides artists and authors with a space for exploration, is divided in two sections. The first section includes essays on the handing down of the feminist legacy, as well as previously unpublished works by the members of La Centrale. The second section features essays and artists' writings about the exhibitions held in 1995-1996.
With texts and artworks by:
Danièle Racine
Rose-Marie Arbour
Christine Major
Manon Morin
Diane Brouillette
Élaine Frigon
Stéphanie Granger
Paméla Landry
Renée Lavaillante
Marie-Danielle Leblanc
Laura Lefave
Janet Logan
Christine Major
Lynne Marsh
Catherine McGovern
Dominique Paul
Lorraine Simms
Manon B. Thibault
Sylvie Bélanger + Nicole Jolicoeur + Laura Lefave
Lynne Hershman + Jannine Marchessault
Ingrid Bachman + Barbara Layne + Kim Sawchuk
Johanne Gagnon + Nicole Lebel + Victoria Bernie
Monique Régimbald-Zeiber + Christine Major + Manon Morin
Frances Robson + Jennifer Gonzalez + Eshrat Erfanian