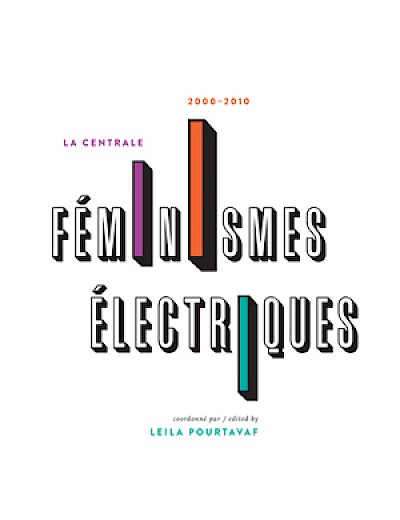 Release : 2012
Price : 29.95$ / 230 p. / illustrations
Featuring essays by Helena Reckitt, Thérèse St-Gelais, Trish Salah, Bernadette Houde, and Aneessa Hashmi, as well as Manon Tourigny in conversation with Stéphanie Chabot and Dominique Pétrin, Reena Katz with Jumana Manna and Onya Hogan-Finlay with Chris Kraus, plus an artist poster by G.B. Jones.  Edited by Leila Pourtavaf, with design by Cecilia Berkovic. Bilingual text.
 
This purchase can only be done in person.                             If you want further details, please write   to developpement@lacentrale.org 
ELECTRIC FEMINISMS
A Decade of Feminist Interventions in Contemporary Art at La Centrale
Féminismes Électriques considers the evolution of feminist artistic practices over the course the last decade, shifting from a focus on womens' artistic production to a response to change brought on by the influences of social practices, gender theory and postcolonialism on contemporary art. The book is produced by La Centrale Galerie Powerhouse, a feminist artist-run center in Montréal with a 40 years history of exhibiting some of the most exciting and innovative local, national and international feminist and women artists.
Féminismes Électriques focuses on these heterogeneous feminist interventions in contemporary art, and begins with a basic question: how do we understand and activate a feminist politics in our artistic and cultural practices that critically engages with relationships of power in our society?
This collection puts in perspective a new vitality that feminisms experienced in art during the last decade, and considers how new generations of feminist artists deconstructed and reclaimed it.
This abundantly illustrated book includes an artist poster by G.B Jones as well as an chronology of the events and exhibitions from 2000 -2010. The book is co-published with Les Éditions du remue-ménage and is distributed by them online to the francophone market, and by Art Metropole outside of Québec. Also on sale now at your local bookstore, click here for a list.
97802-89091-321-9 - 208 p., 7 x 9 in. $30 ( $25 for members).
You are welcome to purchase your copy directly from La Centrale by coming in to La Centrale, or by PAYPAL. The prices indicated on the paypal menu are the price for non-members $ 30 + shipping and handling charges)
Féminismes électriques
Quebec $39.00 CADCanada $42.00 CADU.S.A. $43.00 CADZone euro $46.00 CAD