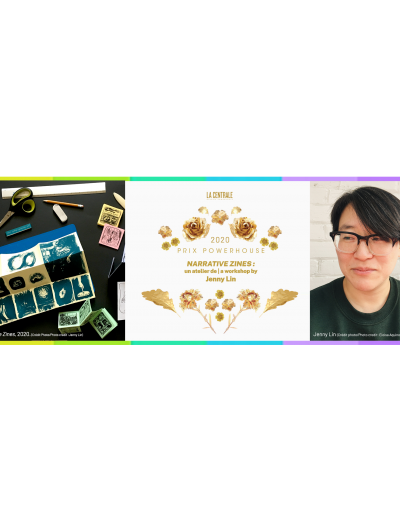 Saturday, November 28, 3:00 p.m to 4:30 p.m
2020.11.28 - Narrative Zines: a workshop on single-sheet structures by Jenny Lin
Narrative Zines: a workshop on single-sheet structures by Jenny Lin presented as part of the Prix Powerhouse 2020

Free online workshop (12 participants maximum). To register please fill out this form: https://cutt.ly/OgXwTqZ. A Zoom link will be sent to participants.
In this workshop, Jenny Lin, one of the two winners of the Prix Powerhouse 2020, will talk about her interest in single-sheet zines as accessible forms of prints that invite touch and physical interaction.

She will show examples of her work and other artists, and also talk about some parts of her process in producing these works, including developing the content for some of her zines.

The artist will demonstrate how to make some of these folded sheet zines and also touch on how to lay out content within these formats.
For this part of the workshop, participants can either just watch or follow along with their own paper.
Participants who wish to follow along the workshop will need these supplies:
6 sheets of paper that are easy to fold by hand (I will be using 8.5 x 11" printer paper for my demonstrations but you can use other types you might have on hand)

a ruler

scissors or an exacto knife with a surface to cut on (for example, a piece of corrugated cardboard or a self-healing cutting mat)

a pencil

an eraser
The workshop will be conducted in English, someone will be present to translate into english any questions asked in French.
This workshop is presented as part of the Prix Powerhouse 2020. We invite you to visit the exhibition "We are wary, we are weary" from November 20 to December 12, 2020 at 4296, boul. St. Laurent Blvd.
Shanna Strauss, also winner of the Prix Powerhouse, is offering a workshop "Working with found wood" on Thursday, November 26th from 6:30 pm to 8 pm
More details on the Prix Powerhouse : https://www.lacentrale.org/prix-powerhouse/prix-powerhouse-2020/ and on the winners: www.jenny-lin.ca/ | www.shannastrauss.co/
If you have any questions, please contact Jessica Côté, Coordinator - development, membership, special programming at developpement@lacentrale.org