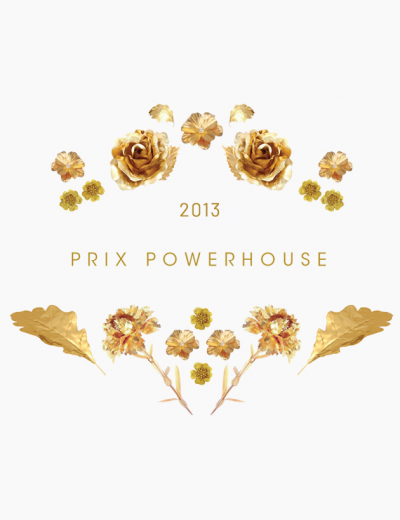 Powerhouse Prize Award Ceremony Thursday June 20, 2013

Prix Powerhouse 2013
La Centrale announces and congratulates the winner of the Prix Powerhouse 2013, Catherine Bolduc.
La Centrale congratulates the finalists of this edition: Nadia Myre and Thérèse Mastroiacovo.
The Prix Powerhouse is a recognition award of 5000$ given to an artist in order to celebrate their artistic journey. It is aimed at women and gender minorities artists, mid-career or established, who have made a significant contribution to Montréal's cultural milieu. This award honors artists who demonstrate perseverance and who continue their work by remaining committed through their approach.
The 5000$ prize was granted during an award ceremony at La Centrale on June 20th, 2013.
Catherine Bolduc
Catherine Bolduc is an artist whose multidisciplinary practice sometimes oscillates between real and imaginary, while maintaining a highly intensified commitment. Bolduc obtained her Master's Degree in Visual Arts and Media from the University of Quebec in Montreal in 2005. She also holds a Bachelor's Degree in Visual Arts (UQÀM) as well as a Bachelor's Degree in Art History from the University of Montreal. Since 1997, Bolduc has presented her work in more than thirty group exhibitions and carried out artist residencies in several places around the world, like Tokyo in 2010 and Berlin from 2007 to 2008. The works of Bolduc are also part of the collection of the Musée national des beaux-arts du Québec, the City of Laval's Collection and the Cirque du Soleil's Collection.
La Centrale would like to thank the jury for the third edition of the Prix Powerhouse, composed of:
Claire Moeder (Independent Curator and Critic);

Louise Simard (Curator, Montreal Museum of Contemporary Art);

Luanne Martineau (Artist and Assistant Professor at Concordia University);

Régine Cadet Artistic Co-Director, MAY: Montreal, Intercultural Arts);

Renée Baert (Independent Curator).
Here is a summary of the curatorial texts written by the jury about the artistic practice of the laureate:
"Catherine Bolduc's multidisciplinary practice reveals her ability to transport the spectator into a fantastic realm of desire and ardent subjectivity. Her work is far reaching; both rigorous and whimsical which stems from an endless source of originality. Her ambitious large-scale drawings, her installations and sculptures create a coherent and unique universe with a poetic and powerful effect. Her meticulous and high-quality work has become a sign of her commitment to art and of a persistent artistic development. Catherine Bolduc's involvement in the Quebec artistic community should also be underlined, since she has sponsored many young artists, sat on the Boards of Directors of the CIRCA and CLARK centers, coordinated projects as a Curator and taught art in three different establishments in Quebec. " - Jury of the Prix Powerhouse 2013.
The award dovetails within La Centrale's mandate to promote feminist artistic practices and to support under-represented artists in dominant cultural institutions. For more details on the prize, see the About Section.
La Centrale wishes to acknowledge the generous contribution of an anonymous donor who made this award possible.
La Centrale thanks its members, the nominated artists, the members of the jury and all those who participated in this third edition of the Prix Powerhouse.