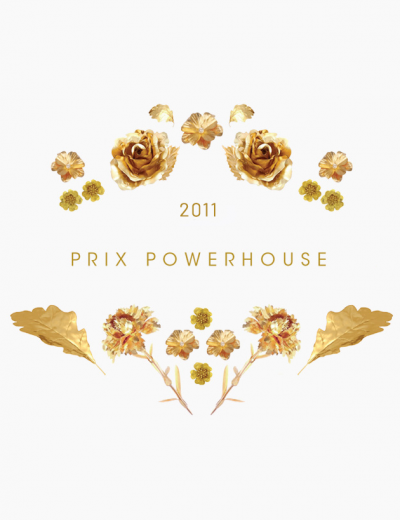 Powerhouse Prize Award Ceremony Wednesday June 29, 2011
Prix Powerhouse 2011
La Centrale announces and congratulates the winner of the Prix Powerhouse 2011, Aude Moreau.
La Centrale congratulates the finalists of this edition: Marie-Claude Bouthillier and Marie-France Brière.
The Prix Powerhouse is a recognition award of 5000$ given to an artist in order to celebrate their artistic journey. It is aimed at women and gender minorities artists, mid-career or established, who have made a significant contribution to Montréal's cultural milieu. This award honors artists who demonstrate perseverance and who continue their work by remaining committed through their approach.
The 5000$ prize was granted during an award ceremony at La Centrale on June 29th, 2011. The award also included an artist residency followed by a two days exhibition which took place on January 28th and 29th, 2012 at La Centrale.
Aude Moreau
Aude Moreau lives and works in Montreal. She completed a licence at the Université de Paris 8, before moving to Quebec and pursuing her studies in scenography (1991). Since 2000, she has developed a body of work that combines her double background in scenography and visual arts. Her first solo exhibition in an artist-run centre was Le fil d'Ariane that she presented in 2000 at La Centrale Galerie Powerhouse.
La Centrale would like to thank the jury for the first edition of the Prix Powerhouse, composed of:
Anne Bertrand;

Valérie Blass;

Monika Kin Gagnon;

Isa Tousignant;

Sarah Watson.
Here is a summary of the curatorial texts written by the jury about the artistic practice of the laureates:
« Aude Moreau consistently creates monumental contextual works with a unique poetic sensitivity and power. The grandiose nature of her projects and audacious statements made within them don't imply that she limits herself to the flashy and the spectacle. Her interventions are calculated and remain anchored in a critical discourse. Her recent works have involved non-artists, which adds another layer of complexity to an already rich practice. » - Jury of the Prix Powerhouse 2011.
The award dovetails within La Centrale's mandate to promote feminist artistic practices and to support under-represented artists in dominant cultural institutions. For more details on the prize, see the About section.
La Centrale wishes to acknowledge the generous contribution of an anonymous donor who made this award possible.
La Centrale thanks its members, the nominated artists, the members of the jury and all those who participated in this first edition of the Prix Powerhouse.