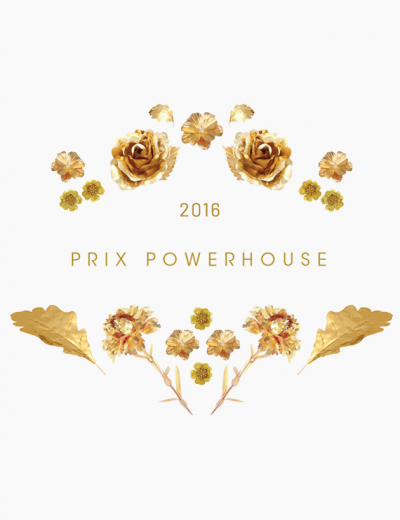 Finalists exhibition from September 9 to October 7, 2016Powerhouse Prize Award Ceremony Friday October 7, 2016

PRIX POWERHOUSE 2016
La Centrale announces and congratulates the winners of the Prix Powerhouse 2016, kimura byol-nathalie lemoine, Manon Labrecque and Alexis O'Hara.
The Prix Powerhouse is a recognition award of 10 000$ given to three artists in order to celebrate their artistic journey. It is aimed at women and gender minorities artists, mid-career or established, who have made a significant contribution to Montréal's cultural milieu. This award honors artists who demonstrate perseverance and who continue their work by remaining committed through their approach.
The three 3 333$ prizes were granted during an award ceremony at La Centrale on October 7th, 2016. The award also included an artist residency followed by a four weeks exhibition, which took place from September 9th to October 7th, 2016, at La Centrale.
kimura byol / nathalie lemoine
nathalie lemoine (나타리 르무완 * ナタリー.ルモワーヌ) is a conceptual multimedia feminist artist who works on identities (diaspora, ethnicity, colorism, post-colonialism, immigration, gender) and expresses it with calligraphy, paintings, digital images, poems, videos and photography. kimura-lemoine's work has been exhibited, screened and published internationally. As a curator, kimura-lemoine has developed projects that give voice and visibility to minorities and as an activist archivist, ze is working on ACA (adoptees cultural archives) to document the history of adoptee's culture through media and arts.
Manon Labrecque
Manon Labrecque studied Contemporary Dance and Visual Arts. Multidisciplinary artist, since 1991, she makes videos, performances, drawings, photographies, kinetic and sound installations. Les traversées (2012), a kinetic sound installation, has been presented at Musée National des Beaux Arts du Québec, in 2017. Also, in 2016, a solo exhibition of 5 recent works, L'origine du mouvement, was presented at EXPRESSION in St-Hyacinthe as well as in Moncton in 2015.
Alexis O'Hara
Alexis O'Hara's interdisciplinary practice exploits allegories of the human voice via electronic improvisation, performance and installation. One of the first artists to incorporate live looping and electronic manipulation to spoken word, she shared the stage with various artists including Diamanda Galas, Ursula Rucker and Herni Chopin. Her performances have been presented across Canada and the US, Western and Eastern Europe and Latin America. She has held research residencies in Canada, Mexico, Cuba and Austria. Alexis and her alter-ego, Guizo La Nuit, are favourites of the cabaret scene in Montreal. She has two musical projects with artist Stephen Lawson (GuiGi and 10,000 Horses).
La Centrale would like to thank the jury for the fifth edition of the Prix Powerhouse, composed of:
Barbara Clausen (UQÀM) ;

Sophie Le Phat Ho (Articule) ;

Dominique Fontaine (Independant Arts Commissioner)

Christine Major (Artist and Professor)

Marie-Ève Charron (Critic, Professor and Commissioner)
Here is a summary of the curatorial texts written by the jury about the artistic practice of the laureates:
"The many names of star kim / cho mihee / kimura byol / nathalie lemoine speak to the complexity of their identities. Zer art practice creates a space to appreciate the material quality of identities: at once unstable, constructed and real. Ze is a Korean-born Belgian adoptee who immigrated to Canada. As a racialized queer who was raised by white Europeans, kimura-lemoine brings us to question our socialized and oppressive perception of identity. Practicing since the 1980s, ze does this with an affirming softness and playfulness, using a DIY aesthetics that is truth-seeking. Zer multidimensional, prolific and persistent art practice, despite contemporary art's boxes, echoes zer enduring and generous presence in Montreal's feminist art communities, as a curator, a documenter as well as a member of GIV, La Centrale and Qouleur, a 2QTPOC art festival. " - Jury of the Prix Powerhouse 2016.
"The jury was drawn to the practice of Manon Labrecque for her research and creation in kinetic installation, which today, all too often, is still a masculine field of practice. In this way she has opened new perspectives for other generations of artists, as she has done since the beginning of her career, as a leading figure in video art, which she now also teaches. At the heart of these works by Labrecque, the controlled unruliness, provoked and experienced, bring out the tensions between the self and the world, and its relations, in which technology, even artisanal, is always implicated. The works of the artist, in the form of uncertain vacillating automatons and machines of vision, seemingly innocent, reveal the norms at work, which are evaluated, measuring power, even in its most interiorised manifestations." - Jury of the Prix Powerhouse 2016.
"The jury wished to honour the ongoing quality and coherence of artist Alexis O'Hara's process, which for twenty years has developed into a singular, dense and multifaceted body of work. Alexis O'Hara's work covers a variety of mediums and forms, places and scales: electronic improvisations, performances, videos, installations and objects, galleries, theatres, bars, vacant lots, shopping malls…. Her oeuvre draws inspiration from the fragmentation of sexual, linguistic and cultural identities, creating an interdisciplinary and political practice that explores the allegories of the human voice. Particularly interested in post-apocalyptic culture, human biology and cognitive science, O'Hara invents characters, is one half of an androgynous sound art duo, participates in collaborative projects and performs abroad. Fashion, fertility, gender stereotypes and the social construction of femininity and masculinity are all areas of research that nourishes the artist's work. " - Jury of the Prix Powerhouse 2016.
The award dovetails within La Centrale's mandate to promote feminist artistic practices and to support under-represented artists in dominant cultural institutions. For more details on the prize, see the About section.
La Centrale wishes to acknowledge the generous contribution of an anonymous donor who made this award possible.
La Centrale thanks its members, the nominated artists, the members of the jury and all those who participated in this fifth edition of the Prix Powerhouse.