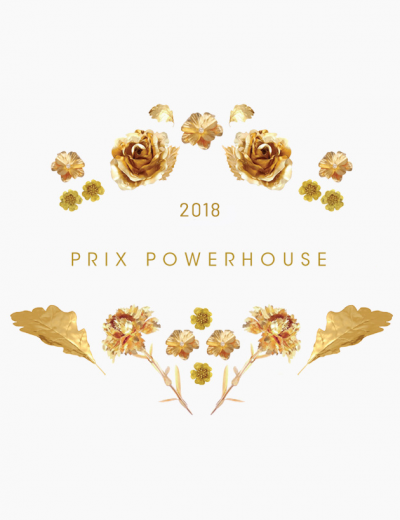 Finalists exhibition from November 16 to December 7, 2018 Powerhouse Prize Award Ceremony Friday November 16, 2018

Prix Powerhouse 2018
La Centrale announces and congratulates the winners of the Prix Powerhouse 2018, Helena Martin Franco and Victoria Stanton.
The PRIX POWERHOUSE is a recognition award of 10 000$ given to two laureates in order to celebrate their artistic journey. It is aimed at women and gender minorities, mid-career or established, who have made a significant contribution to Montréal's cultural milieu. This award honors artists who demonstrate perseverance and who continue their work by remaining committed through their approach.
Two 5 000$ prizes were granted during an award ceremony at La Centrale on November 16th, 2018. The awards also included a one week artist residency followed by a three weeks exhibition, which took place at La Centrale from November 16th to December 7th, 2018.
Helena Martin Franco
For over twenty years, Helena Martin Franco has consolidated a trans-disciplinary and cross-border practice that positions her as one of the pioneers of Latin-American art and Latin-Canadian art. Her social involvement has enabled her to forge artistic relations, particularly between the North and the South of the American continent, through local institutions.
Victoria Stanton
Active for more than twenty years in Montreal as well as in national and international performance circles, Victoria Stanton's practice is marked by a rich dedication and coherence. Her professional journey reveals both her deep local roots and the significance of her observations through which she seizes the world around her.
La Centrale would like to thank the jury for the sixth edition of the Prix Powerhouse, composed of:
kimura byol-nathalie lemoine;

Nuria Carton de Grammont;

Natacha Clitandre;

Ji-Yoon Han;

Cheryl Sim.
Here is a summary of the curatorial texts written by the jury about the artistic practice of the laureates:
"Montreal-born artist of Colombian origin, Helena Martin Franco is Fritta Caro. As Fritta, Helena begins a crusade against the politically correct cultural melting pot. Helena is also Corazón desfasado, a saint venerated by lamenting spirits in the promised land of hyper-consumerism; woman-chameleon, spider-woman and elephant woman, she shatters conformist molds of identity and gender. Through this performative trilogy of self-referential fictions, this artist has given different faces to the individual and collective vulnerability imposed by the migratory experience." - Jury, Prix Powerhouse 2018.
"In an approach borrowing from relational aesthetics, the artist's work unfolds on various scales and her practice creates an impact in the various communities that it touches. An inspired and introspective artist, but also a researcher, curator, author, musician and teacher, Victoria Stanton's eminently sincere approach has a plural impact that is felt in diverse realms. This essential figure in the history of performance art in Quebec proposes and cultivates a careful and empathic look at the world that surrounds her. In all spheres of her work, this Montrealer makes visible her presence and sensitive connection to her surroundings, exploring this creating of relationship at multiple levels. " - Jury, Prix Powerhouse 2018.
The award dovetails within La Centrale's mandate to promote feminist artistic practices and to support under-represented artists in dominant cultural institutions. For more details on the prize, see the About section.
La Centrale wishes to acknowledge the generous contribution of an anonymous donor who made this award possible.
La Centrale thanks its members, the nominated artists, the members of the jury and all those who participated in this sixth edition of the Prix Powerhouse.
communique_expo_prixpowerhouse2018-1.pdf